Calls to improve A487 in Ceredigion to cut accidents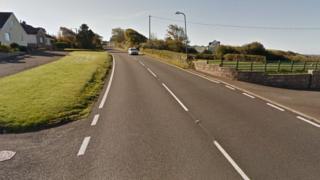 Calls to improve the A487 in Ceredigion have been made following a series of accidents on the road over the summer.
Councillors want the road to be widened to create passing places, which they claim would allow vehicles to overtake more easily. They are due to present a petition to the assembly on Tuesday.
At a meeting on Monday, councillors were told by police there had been eight serious accidents this year.
The Welsh Government said plans to address the issue had been discussed.
Councillor Maldwyn Lewis, who will hand over the petition at the Senedd, said driver frustration was a factor in many accidents between Cardigan and Aberystwyth.
"Drivers become frustrated when they get caught behind slower moving vehicles for many miles," he said.
"I'm of the opinion that having strategically located passing places would reduce driver frustration and risk taking when attempting to overtake."
Mr Lewis said he had collected about 1,000 names on the petition and also had the support of a number of businesses.
The issue was discussed by councillors, officers from Road Safety Wales and the Welsh Government in Aberaeron on Monday morning.
After the meeting, Mr Lewis said the Welsh Government was looking into road safety improvements across Wales which would include "two-in-one lanes" - locations where slower vehicles could move to a left-hand lane allowing others to overtake safely.
According to Mr Lewis, there was no specific commitment for improvements in Ceredigion but he was hopeful plans for improvements would be in place in the coming years.
A Welsh Government spokesman said: "During recent road safety meetings with Ceredigion council, plans to develop a Welsh Government programme to address regional 'pinch points' and increase overtaking opportunities were discussed.
"We hope to announce more detail on this shortly."