Day centres for older people in Powys could be scrapped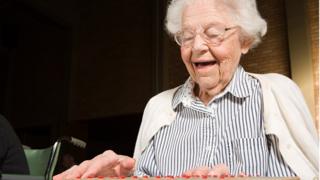 Day centres for older people could be closed in Powys under proposals to save the council money.
The authority is consulting on three options for the future of the service, including scrapping all but one centre and introducing new community support.
It said it needed to save £1.1m from the service's budget by 2017/18 as part of wider council cuts.
The charity Age Cymru said the centres were a "lifeline" for many older people.
A spokesman said: "Day centres are a source of company, friendship and support and quite often they provide the only chance some older people have to get out of their homes."
Powys council runs six day centres in the county and funds five cent
res run by other groups.
In a consultation report, it said each person using the service cost the authority up to £3,500 a year, with some centres supporting up to 71 people.
In the face of cuts from central government, it is looking at how best to support elderly people in future.
The three options being considered are:
Not closing any of the existing services and continue "as is'"- but this would mean a cut to funding for other adult social care services
Closing all day centres, including non-council run day centres, but not Westwood in Welshpool, which is run by the town council. Users would be assessed for other support services
A phased closure of day centres, except for Westwood, and the introduction of a new daytime service, including a befriending service and dementia support - new grants could be applied for to fund these new services
In its report, the council said that while very popular with their users, "day centres are often not the best way of meeting the needs of older people".
"We also believe that the current day centre model can create a culture of 'dependency' and requires the user to fit in with what we can offer, not what would best suit his or her needs," it added.
The public consultation runs until 9 November.
In May 2014, Powys council said it was trying to transfer day centres to community groups and end its meals service to plug a £40m budget gap by 2017.