World War One: Aberystwyth students help create memorial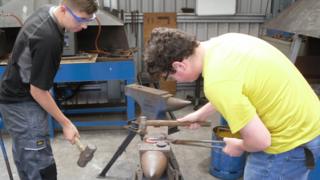 Students at a Ceredigion college have been chosen to be part of an international project to create a World War One memorial.
The group of six, aged 16 to 18, study at Hyfforddiant Ceredigion Training in Aberystwyth.
A 23ft (7m) 12-tonne Flanders poppy, surrounded by a field of steel poppies will be placed at the Langemark German war cemetery in Belgium.
It is being made by blacksmiths and farriers from across the world.
Dai Price, the farriery training adviser at HCT, said: "We are delighted and honoured to be involved in this fantastic project, the young people that are working on the production of these poppies have been given a once in a lifetime opportunity to help commemorate the blacksmiths and farriers that lost their lives in World War One and I'm sure their involvement is something that they will remember for ever."
The students are crafting five poppies for the memorial, which will be finished in front of In Flanders Fields Museum, Ypres, in September.
School children from Wales have also taken part in the project.