Bog snorkelling in Llanwrtyd Wells alternative games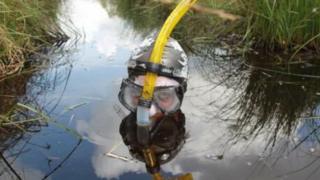 The World Alternative Games and bog snorkelling championships take place in Powys from Friday.
Activities also include wife carrying, husband dragging, gravy wrestling, Russian egg roulette, backward running, worm charming and ditch racing.
The games, in Llanwrtyd Wells, continue every weekend until 29 August.
Bog snorkelling has taken place in the town for 31 years and in 2012 other activities were added as a Wales-focused alternative to the Olympics.
Economy Secretary Ken Skates said it was "a credit to Wales" which "puts a smile on faces".
There will be 60 different activities and the bog snorkelling takes place on 28 August.