Plan to move Aberystwyth Crown Post Office causes concern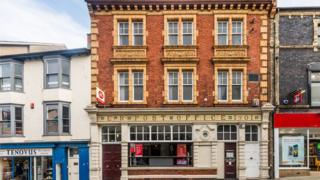 Concerns have been raised about proposals to move the Post Office in the centre of Aberystwyth to a branch of WHSmith.
Residents fear services could be compromised and that access in the shop will be difficult for disabled people and those with pushchairs.
A public consultation on the plans has been launched and will run until 21 September.
The Post Office said the move was needed to secure the branch's future.
But Councillor Ceredig Davies, who represents Aberystwyth's central ward, said the current Post Office was often busy, with queues sometimes out of the door.
He said many residents were concerned that they would not get the same standard of service because WHSmith was not specifically dealing with Post Office issues.
Ceredigion MP Mark Williams said he was "very disappointed with plans".
"The Aberystwyth Crown Post Office is the only remaining Crown Post Office in our county, and indeed Mid Wales and we must continue to fight for its survival," he added.
WHSmith currently runs more than 100 Post Office branches in its stores around the UK.
In April, it announced plans to move up to 61 more branches into WHSmith stores over the next year.
A Post Office spokeswoman said if the Aberystwyth move went ahead, the new franchise would open in November with aisles widened to accommodate wheelchair users.
Roger Gale, general manager of the Post Office Crown Network, added: "Our customers will be offered the same range of services, with more convenient and longer opening hours, including Sundays.
"WHSmith already operates around 100 Post Office branches from their stores in the UK and we've been successfully working with them for nearly 10 years.
"They have a proven record of running Post Offices with consistently high levels of customer service."