Search halted for man swept off rocks on Mwnt beach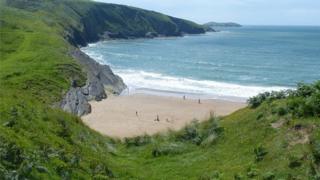 The search for a man reportedly swept off rocks on a Ceredigion beach has been called off.
It is believed two men were cut off by the tide at Mwnt on Sunday afternoon, with one falling into the sea.
Coastguard teams searched the coastline at low tide on Tuesday before suspending the search after three days.
Dyfed-Powys Police confirmed on Tuesday afternoon that the missing man is a 23-year-old from the West Midlands.