Aberystwyth Uni appoints rugby officer to boost game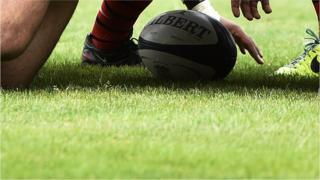 Aberystwyth University has become the first in Wales to appoint a rugby hub officer to help improve the sport at grassroots level.
Llyr Thomas's three-year role, which is part-funded by the Welsh Rugby Union (WRU), aims to "revitalise" the game at university, school and club level.
He will come up with training and nutritional regimes for players and look at statistical analysis.
It is hoped the program will increase participation at all levels.
Mr Thomas, who has a degree in sports science and plays full back for Aberystwyth RFC, said he hoped to grow the game with people from all backgrounds.
"For me, the most important thing is that men and women have the opportunity to play - be it those who are aspiring to go on to a higher level, through to students who may want to experience the game by playing touch sevens or beach rugby," he said.
WRU relationships manager Adrian Evans said the aim of the program was to cater for everyone who signs up for rugby in Freshers' week "and beyond".
"We know that a large proportion of students stay in the area after completing their studies, and it's a key priority for us to make links for the long-term with local clubs," he said.