U-turn on sacking Powys Llanfyllin governors in bus row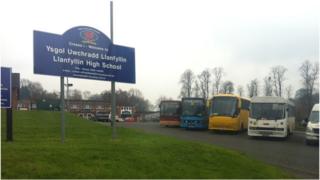 School governors sacked after being accused of breaching rules by subsidising transport to almost 200 pupils from outside the catchment area, have had a reprieve following a U-turn.
Llanfyllin High School was accused of by Powys council of subsidising transport to almost 200 pupils outside catchment, including 140 from England.
Five governors appealed against dismissal for their role in the matter.
Four will now receive suspensions and one appeal was upheld in full.
Darren Mayor, Aled Davies, Peter Lewis, Gwynfor Thomas and Myfanwy Alexander had been all dismissed by the council's cabinet as governors of any Powys school.
Mr Mayor, Mr Davies and Mr Lewis will instead be suspended as governors for four months, Mr Thomas for one month and Ms Alexander will not be suspended at all.
An investigation found the school had spent more than £460,000 over five years - money which should have gone on education.
Initially, the school was told it would have to repay £17,000 into the school budget and comply with the council's transport policy by this September but in June it was given two years in order "to protect parents and pupils".