Two months of convoys to Tirgwynt Wind Farm in Powys begin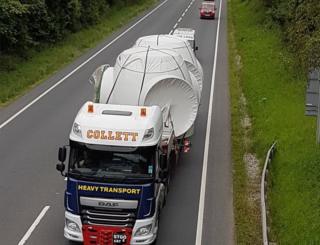 The first convoy of lorries carrying large wind farm parts to Powys began on Monday.
Under police escort, they will be making one delivery a day from Goole in Yorkshire to a site near Welshpool, for up to six days a week.
Developers Awel Newydd Cyf said the convoys will last for about two months.
Dates of key local events and the August bank holiday weekend will be avoided.
Tirgwynt Wind Farm is located near Carno and is made up of 12 turbines, each measuring 377ft (115m) high.
The transport routes will see the convoy enter mid Wales at Pant, travelling south along the A483 to Welshpool, then following the A458 and B4385 to the site entrance.
Increasing frequency
Trial runs were completed last month to ensure deliveries run smoothly.
Andy Black, director at Awel Newydd Cyf, said a "detailed analysis of the route" has been completed with road improvements to facilitate the delivery of the components.
Work included highway widening and new passing places, which Mr Black said would "benefit local residents and improve the roads".
The deliveries are expected to last about two months, although Awel Newydd Cyf aims to reduce the period by increasing the frequency and size of the deliveries, subject to police deeming it safe.