Joshua Hoole: Brecon soldier death investigation continues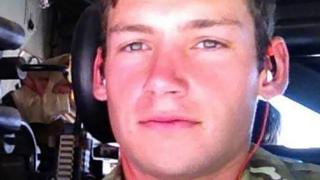 Investigations are continuing into the death of a soldier who was on an Army fitness test in Brecon.
Cpl Joshua Hoole, 26, of Ecclefechan, near Lockerbie, died on pre-course training for the Platoon Sergeants' Battle Course.
He had just finished an eight-mile course when he collapsed at Dering Lines infantry training centre just before 09:00 BST on Tuesday.
Dyfed-Powys Police is investigating and the cause of death is not yet known.
A post-mortem examination is due to take place on Friday.
Cpl Hoole, who was serving in the Rifles regiment at ITC Catterick, died on the hottest day of the year.
The Ministry of Defence (MoD) said the officer in charge would have checked the weather conditions and the temperature as part of his duties.
A spokesman added: "It was a two-week course and they were on day two.
"They all did the annual fitness test which is an eight-mile route carrying 25kg in two hours. No-one can do the route in less than one hour [and] 50 minutes.
"The annual fitness test is the first thing you do. This test gets done all across the infantry and is not supposed to be taxing."
The MoD said it was 17C (63F) when the group started the training exercise and 21C (70F) or 22C (72F) when they finished.
His death came three years after three soldiers died during a SAS selection exercise while on the Brecon Beacons.
Cpl Hoole, who was due to get married and be the best man at his brother's wedding, was described by his grandfather, John Craig, as a "beautiful grandson" and a "super fit boy".
Bridgend MP Madeleine Moon, who sits on the defence select committee, said it would be "totally unforgiveable" if the military had not learned from the previous deaths.
"This cannot continue. There has to be a change in culture. There has to be a change in practice and there have been changes - clearly they're not getting through quick enough," she said.
"Something has very badly gone wrong here and we need to look at what next steps need to take place to stop this happening yet again."