Fire crews tackle hay fire at Royal Welsh showground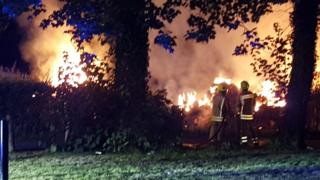 A hay trailer was destroyed by fire at the Royal Welsh showground in Powys during the early hours of Tuesday.
About 25 firefighters were called to the site in Llanelwedd, which was near the campsite area, at around 01:00 BST.
A security guard told BBC Radio Wales reporter Gilbert John a series of explosions could be heard, which he described as "like bombs going off".
He believed they were either exploding tyres or possibly cylinders on the lorry.
It is understood the fire was started deliberately.