Patients fear over future of GP surgery in Cardigan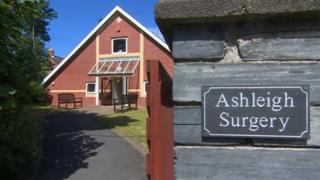 About 150 patients have attended a meeting over the future of their GP practice which could shut leaving about 4,500 without a doctor in Ceredigion.
Ashleigh Surgery in Cardigan has not had any applications in seven months for a new GP to take over.
The current GPs are due to retire in January and notice on the practice's contract has been handed to Hywel Dda University Health Board.
The health board said a number of options are available for the practice.
"We've had a number of patients come in because they are fearing they're not going to have access to medical care or they're not going to get their medication which is sad," the surgery's Dr Sian Thomas said.
"I think it's a nationwide problem with a lack of GPs. In this area I think it's compounded by the fact a lot of GPs have been very happy in their surgeries and a lot are of similar age.
"My husband is reaching his retirement age and plans to retire in the new year and 4,500 patients in a practice is far too many for me to be able to safely provide good medical care to them."
Some patients fear they could have to travel up to eight miles if the surgery closes.
Elaine Lawton, assistant director of primary care at Hywel Dda, said it was always "incredibly difficult" when a group of doctors felt they could not continue without additional support.
She added: "We've got a number of options whether that be the health board taking over the management of the practice or working more closely with the existing GPs and practice team or whether we need to think about dispersing the list which is always the last case scenario.
"As a health board, we are committed to maintaining services as close to home as possible."