Syrian refugees in Aberystwyth give thanks for welcome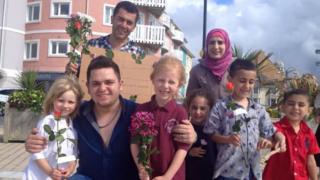 Syrian refugees in Aberystwyth have thanked locals for welcoming them to the Ceredigion town.
They gave out flowers to the passers-by and thanked everybody who stopped.
They said they wanted to show appreciation for the kindness of the community, which has treated them so well.
Ahmad Al Najjar, who has been in the town for four months, said he came up with the idea after the welcome they received.
"It's very nice and quiet and people are so friendly," he told BBC Wales.
"We brought some flowers and each had a piece of paper saying thank you.
"We also got some board and wrote 'thank you for welcoming us' in English and Welsh."