VAT scammer David John Mees to pay £1 of £193k debt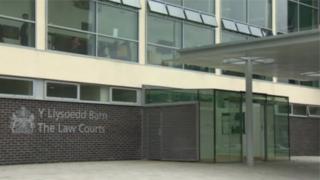 A heating engineer who made £193,000 out of a VAT scam has been told he can pay just £1 back because he has no money left.
David John Mees, 52, of Llandinam in Powys, charged his customers VAT but kept the money, Mold Crown Court heard.
He was given a suspended prison sentence in October after pleading guilty to VAT evasion and charges of unfair commercial practises.
A judge at a proceeds of crime hearing told him to pay a nominal £1.
The prosecution authority, Powys council, accepted he did not have any assets and was unable to pay any money back at this stage.
Judge Rhys Rowlands told Mees that if he came into assets in the future, the prosecution could seek to recover the outstanding money.
Unpaid work
Last year, the court heard how he told investigators he believed regular payments were being made to revenue and customs - HMRC - from his account.
But checks revealed the payments were instead made to the courts service, HMCTS, and were to pay his fines, prosecuting barrister Paulinus Barnes said.
Mees was due to go on trial for VAT evasion and charges of unfair commercial and misleading practises between 2011 and 2014.
But some charges were dropped when he pleaded guilty to a reduced number of charges, and on Thursday he received a 14-month prison sentence, suspended for two years.
He was also ordered to carry out 200 hours of unpaid work.