Aberystwyth University scientists' diamond exhibition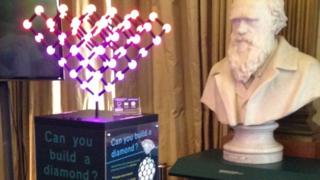 Scientists from Ceredigion are presenting their research on synthetic diamond at an exhibition in London.
Researchers from Aberystwyth University's physics department have been looking into the properties of man-made diamonds and how they can be used in daily life.
Heat and sound can travel through it faster than through any other material, and it can transmit clear sound.
The physicists aim to show it can be much more than "sparkling jewellery".
Professor Andrew Evans said: "By growing diamond in the lab, its properties can be manipulated to our advantage.
"Our technical team at Aberystwyth have built a model of the diamond crystal that lights up to show how we can control the colour and electrical conduction by changing where the atoms sit."
The Royal Society's Summer Science Exhibition features 22 exhibits and runs for a week.