Aberystwyth 'solidarity' rally follows Brexit vote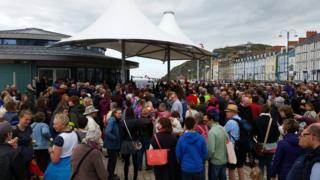 Hundreds of people took part in a demonstration of "friendship and solidarity" in Ceredigion on Saturday.
The All Equal event on Aberystwyth promenade saw people of all nationalities come together in the wake of the Brexit vote.
Organisers said it was "vital to unite" when politics was "polarised".
Aberystwyth has been identified as the "most Europhile town in the UK" and was one of the few towns in Wales which voted Remain.
Event organiser Matthew Phillips said: "It is vital, when politics remain so polarised, that we unite to stand shoulder to shoulder with all those who make our community what it is.
"Wherever you come from you are welcome, appreciated and valued in Aberystwyth."
Jenny Kardefelt Jones, a Swedish citizen, said she felt unwelcome in the UK for the first time in 10 years.
"But the people of Aberystwyth are special and events like this show us that together we are stronger," she said.