Review to stop future illegal raves in Ceredigion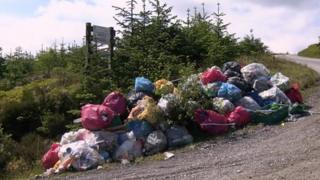 The way police and Ceredigion council work together to handle illegal gatherings is not fit for purpose, a council meeting will hear.
About 2,000 people attended a three-day illegal rave last month near Llanddewi Brefi and police made several arrests, mainly for drug offences.
But a multi-agency meeting found the organisers could not be prosecuted.
Councillors will be asked on Wednesday to approve bringing a memorandum of understanding with police up to date.
A report to the licensing committee said: "The occurrences of these events often result in serious distress to the peace of residents in these areas.
"In addition, the events are also associated with criminal and civil offences of criminal damage, the misuse of drugs, breaches of the peace, fly tipping, littering and public health offences."
If approved the review will look at possible actions to stop similar illegal events in future, bringing the Management of Illegal Events Memorandum of up to date with legislative changes so it is "fit for purpose".