Aberystwyth's old street signs set for autumn auction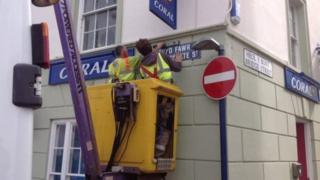 An auction is to be held in the autumn to sell about 260 old street signs from Aberystwyth.
As part of an £800,000 scheme to improve the look of the seaside town, the signs were replaced with Edwardian-style versions.
The old signs were given to the Friends of Ceredigion Museum in order to raise money for the museum's new renovations.
The auction is to be held in late October or early November. The value of the signs has not yet been confirmed.