Powys legal challenge over school bus fees for pupils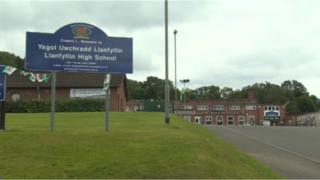 Parents of pupils at a Powys school are launching a legal challenge after being told transport fees for some children will quadruple.
Those affected live outside the catchment area for Llanfyllin High School, including 150 from the Shropshire town of Oswestry.
In April, the council ruled bus fares should not have been subsidised for those pupils.
But parents are now threatening to pursue a judicial review on the issue.
Richard Lloyd, a solicitor representing some of the parents of pupils at Llanfyllin, said: "We took specialist barrister advice in this area of law, it was his opinion there are merits in mounting a legal challenge to the decision that Powys County Council didn't take the right course of action in implementing their new transport policy back in 2011.
"Clearly this is an issue that affects all parents at the school and all parents at the school are likely to be an interested party in any judicial review proceedings that are currently being considered unless Powys council changes its stance on the situation."
The school spent £500,000 out of its own budget to subsidise the cost of transport for 200 pupils.
But governors were told they must now comply with the authority's transport policy starting in September.
Ruth Evans, who lives 14 miles away in Oswestry, said she might have to consider moving her 13-year-old daughter out of the school if she was forced to pay more for transport.
She said: "We are paying £240 a year - that's £80 a term. There's no way that I can afford for it to go up to £800."
Ms Evans said her daughter had chosen to go to Llanfyllin because she wanted to be educated through the medium of the Welsh language.
"She would be devastated to have to change schools."