More cuts will 'threaten National Library of Wales'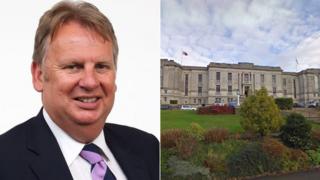 Further cuts would "threaten" the National Library of Wales' ability to deliver services, its new president has claimed.
Rhodri Glyn Thomas called on the next government of Wales to protect the institution and said politicians should "acknowledge that the library fulfils a unique role, which is irreplaceable".
The Aberystwyth facility had coped with nearly a decade of cuts, he said.
He stressed it now needed a new strategy and budget from government.
"The National Library plays a very important role in the life of the nation and must be given the resources to fulfil its responsibilities," he added.