Llanfyllin High School to repay £17,000 of bus subsidies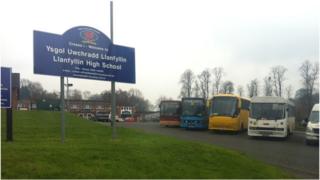 A Powys school which spent nearly £500,000 over five years to bus pupils from outside its catchment area has been told to pay back £17,000.
Llanfyllin High School was accused of breaking council rules by subsidising transport to almost 200 pupils outside catchment, including 140 from England.
Governors claimed the council was aware of the school's action and said any repayments could penalise pupils.
The £17,000, to be repaid by governors, will go back into the school budget.
The decision was made at a Powys council cabinet meeting on Tuesday afternoon.
The school was told it would also have to comply with the council's transport policy from the start of the 2016/2017 academic year - meaning no further subsidised transport for pupils outside the catchment area.
The council investigated the school's accounts after being contacted by the Wales Audit Office and found it had spent more than £460,000 during a five-year period subsiding transport to pupils from outside catchment.
The dual-stream school - which has more than 80% of pupils in the English stream and fewer than 20% in the Welsh stream - has more than 800 students on its register.
Supporters of Welsh-medium education said the move had become "a direct threat" to Welsh-medium education in Llanfyllin.
The school governors are set to meet as soon as possible to decide on how best to recover the funds.