Site bought for £8m Cylch Caron health centre, Tregaron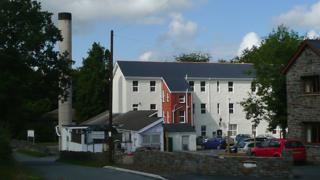 A site has been bought to build a health centre for people living in a rural community in Ceredigion, the health minister has said.
Final plans for the £8m Cylch Caron project have been submitted to the assembly, with it aiming to bring together health, housing and social services on one site.
It will replace Tregaron Community Hospital, a care home and a GP surgery.
Mark Drakeford said it would bring services closer to residents.
"By working together and focusing on early intervention, these services will help people to live active, independent lines," he said.
Plans for the site, bought for £727,000, include building 34 flats for people who need extra care and support to remain in their own homes.
There would also be six units to assist people who need more help before they return home from hospital.