Llandrindod Wells launches free open-access wi-fi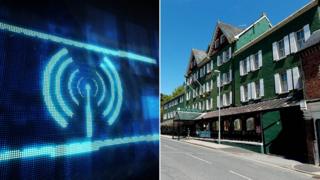 A Powys town has launched its own free, open-access wi-fi.
Llandrindod Wells' system was installed at sites in the town, including the public transport interchange, Middleton Street and Temple Gardens.
People can now get free wi-fi access by logging on via the town's new website.
Avril York, Powys council's cabinet member for regeneration, said: "The system will benefit local people, residents and visitors."
The scheme was funded by developer contributions made by Tesco and Powys council's regeneration grant.
"Not only will Llandrindod Wells be able to use the system to showcase what the town has to offer, but it could become a great tool for the town's businesses to inform the way they market their business in the future," Ms York added.