Belgian refugee concert in Aberystwyth to be replicated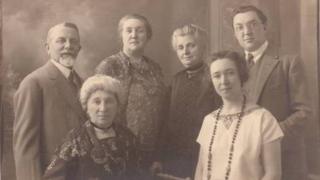 A concert to raise money for Syrian refugees will take place in Ceredigion- exactly 100 years after a similar event took place involving refugees from Belgium.
On 16 February 1916, an event was held at Capel y Garn, Aberystwyth, to raise cash for the town's Red Cross Hospital.
The concert included performers from Belgium, after 100 World War One refugees arrived two years earlier.
With Syrian refugees now in Aberystwyth, it will be replicated.
One of the organisers Marian Beech Hughes said the 1916 concert came to light after a project focusing on the effects of World War One on the local area.
People came forward with old documents and photographs from it, which led to the decision to replicate it on the anniversary.
"With refugees from Syria taking shelter in Aberystwyth at the moment, we were thinking about ways of offering help" she said.
"We thought this way of doing it would also remember what happened 100 years ago," she said.
Music historian Dr Rhian Dafydd, added: "There is an air of mystery surrounding the history."
The idea to help the Belgian refugees is thought to have come from the philanthropic sisters, Gwendoline and Margaret Davies.
"They still lived in Llandinam, and wanted to help people, especially artists," Dr Dafydd said.
"They had influential contacts in Paris, where they would go to buy works of art. They financed the whole thing, and 130 Belgian refugees arrived in London, before getting on a train to mid Wales."