Illegal immigrants arrested at Brecon Indian restaurant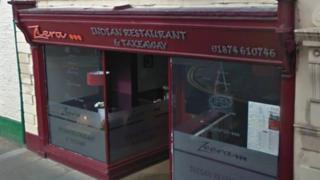 Three Bangladeshi immigrants have been arrested following a raid on an Indian restaurant in Powys where they were working illegally.
The men, aged 38, 39 and 41, were held after immigration officers visited Zeera on The Struet, Brecon.
They were detained pending removal from the UK.
Zeera was served with a warning notice stating it could be fined £20,000 per worker unless it shows it checks its staff were eligible to work in the UK.
Richard Johnston from Immigration Enforcement in Wales said: "Using illegal labour is not a victimless crime. It cheats the taxpayer, undercuts businesses who ply an honest trade and deprives legitimate job seekers of employment opportunities."