Final push for £19m Aberystwyth Old College renovation bid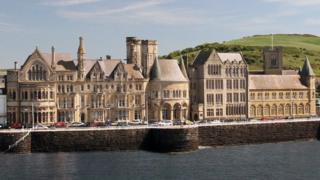 The latest developments in a £19.5m bid to renovate Aberystwyth University's Old College will be made public later.
The university is hoping to secure half the cash it needs in lottery funding to transform the original home of the college, established in 1872.
The Grade I listed building will be turned into a centre for heritage, learning and enterprise.
Heritage Lottery officials will make a final bid assessment in March.
College officials say they want the renovation scheme to turn the Old College into a facility bringing together both academia and the public in Aberystwyth.
"We want to encourage closer 'town-gown' relationships and to provide a fantastic facility for showcasing learning, research and enterprise opportunities that will inspire users and visitors and boost the economy," said Louise Jagger, director of development.
A final public meeting before the funding assessment will take place on Thursday in the Old College.