Flushed with success as Ceredigion scoops loo awards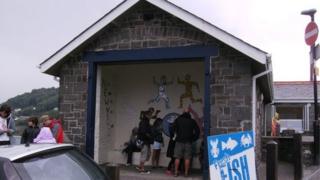 A council is flushed with success after scooping a number of top honours at the Loo of the Year awards.
Ceredigion council was not caught short, winning 22 platinum gongs, eight gold awards and four main trophies.
After spending more than just a penny on its loos, cleaning services manager Jasmine Wilson said they "are recognised to be the best in the UK".
It was best in the UK for public toilets, hygiene, education and healthcare.
Its education award was for the quality of school toilets, while its healthcare gong was for standards in care home and similar facilities.
The Loo of the Year awards were launched in 1987 with the aim of improving the standards of "away from home" toilets.
Councillor Alun Williams said it was "remarkable" the standard of toilets had been maintained so well following cuts to the local authority's budget.