Brecon Jazz Festival in doubt for 2016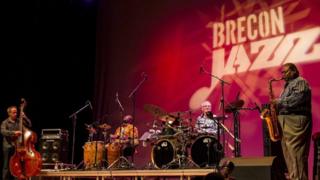 The annual Brecon Jazz Festival is in doubt for 2016, after its promoter said it would no longer run the event.
Orchard Media and Events Group stepped in to run Brecon Jazz in 2012, after the festival faced a series challenges.
Orchard said on Thursday that move was based on "financial considerations" over the event
The Arts Council for Wales, which invested £100,000 in 2015, said the festival should now take break in 2016.
"For a festival to thrive in the future, it is clear that other partners would need to join with the Arts Council in providing a level of investment that would enable a festival of this scale to happen," said an Arts Council official.
"During these difficult economic times we accept that this is a big challenge. However, a gap year in 2016 would provide an opportunity to see if such a partnership is possible."
Orchard was appointed to run the festival after the Hay Festival organisation dropped the event.
'Real economy boost'
But Orchard director Pablo Janczur said his company had "effectively subsidised the event on an annual basis since 2012".
"I think we gave it a really good shot, and I genuinely hope someone out there can take it on, because it has a great reputation internationally, provides a terrific platform for Welsh Jazz talent, and is a real boost to the mid Wales economy."
Orchard said despite "valued public sector support", and thousands of visitors every year, "the reality is they are not swelling the festival coffers".
"Orchard has not been able to take a management fee each year," added Mr Janczur.
"As Wales' leading independent promoter and communications group, we simply can't sustain those losses."