£24m Dyfi Bridge plans go on show at Machynlleth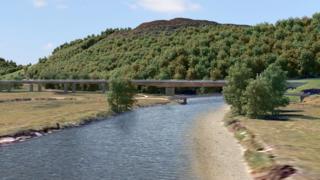 Plans for a new £24m Dyfi Bridge near Machynlleth in Powys have been drawn up to improve travel times, said Transport Minister Edwina Hart.
She said the current Grade II listed bridge on the A487 road is narrow and creates a pinch-point.
A new viaduct will cross the River Dyfi upstream of the existing bridge which will be retained under the plans.
The 200-year-old bridge has been frequently closed over the years due to flooding and road collisions.
Mrs Hart said: "This project is part of the Welsh government's commitment to improving transport links between north and south Wales."
An exhibition on the plans is being held at Y Plas, Machynlleth, on Wednesday between 10:00-20:00 BST.