Plans for ex-Mid Wales Hospital, Talgarth, to be unveiled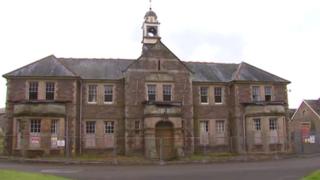 Plans to redevelop an old psychiatric hospital in the Brecon Beacons are due to be unveiled.
The former Mid Wales Hospital at Talgarth closed in 1999 and is in a poor state of repair inside.
A previous bid to demolish the building and replace it with 100 homes and a care home was thrown out in 2012.
Developer Phil Collins will be at this weekend's Festival of the Black Mountains in Talgarth to gather views on the site.