Orca whale sightings off Ceredigion coast, says Sea Trust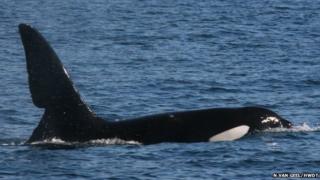 Three sightings of an orca whale off the Ceredigion coast are "significant", conservation charity Sea Trust has said.
The whale was spotted near Mwnt and is believed to have been hunting salmon and sea trout near the Teifi estuary.
Cliff Benson, of Sea Trust, said the sightings were notable because the mammals were more often seen off the coast of Pembrokeshire.
He urged anyone who spotted it to get in touch.
"They [the whales] will range from as far away as Norway, Shetland, the Hebrides and the west coast of Ireland. Even as far as the Canaries. They will hunt the big shoals of mackerel and herring," said Mr Benson.
"The weather hasn't been good to go out and look for it. We would love to hear from anyone with sightings but do take care not to harass any of the wildlife".
Mr Benson said it was possible the whale was a well-known large male orca known as John Coe, which has a chunk missing from its fin.
John Coe has previously been seen off the Pembrokeshire coast and in Scottish waters and is known to travel through the Irish Sea in summer months.