Alternative halls mooted for Welsh-medium Pantycelyn students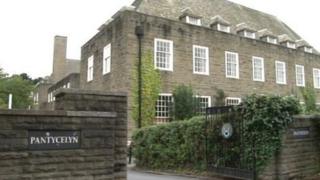 Students holding a sit-in in protest at the closure of their hall of residence have been offered the possibility of alternative Welsh-medium accommodation.
Accommodation at Pantycelyn is due to close at the end of this academic term.
But now Aberystwyth University's chancellor has suggested moving Welsh-medium students to Penbryn Hall and reopening Pantycelyn in four years.
The Union of Welsh Language Students (UMCA) has welcomed the development.
University Chancellor Sir Emyr Jones Parry said he would put the proposal before the university's council on Monday.
He said: "It is our intention, on this basis, to reopen Pantycelyn within 4 years to provide fit-for-the- future Welsh medium accommodation and social spaces and to begin the necessary work in 2015/16."