Third Cors Dyfi osprey chick hatches in Powys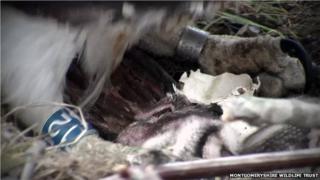 A third osprey chick has hatched at a mid Wales nesting ground days after the first emerged from its egg.
The eggs were produced by the mating pair Monty and Glesni, who have previously produced four eggs in the last three years.
This batch of eggs was first spotted at the Cors Dyfi nature reserve near Machynlleth in Powys on 25 April.
The first chick hatched last Friday, with the second appearing on Sunday followed by the third late on Tuesday.
It was the first time Glesni had laid three eggs, the Dyfi Osprey Project said. The chicks have been named Bob 1, 2 and 3.
Another nesting pair in the Glaslyn Osprey Project, near Porthmadog, is currently incubating two eggs