Pair of rare ospreys incubating eggs at Gwynedd nesting ground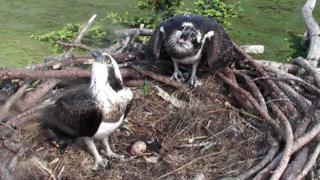 A pair of rare ospreys in Gwynedd have started to incubate two eggs for the first time this year.
Parents Mrs G and Aran have produced the eggs at the Glaslyn Osprey Project, near Porthmadog.
Bywyd Gwyllt Glaslyn Wildlife, which has run the project since 2014, hopes the chicks will be hatched later this year.
Chicks have already been hatched to other breeding pairs in Powys.
Mrs G and Aran's first egg was laid on 18 May, while the second followed on 23 May.
Birds of prey at the site are kept under constant watch via nest cameras.