Osprey Monty and friends return to Cors Dyfi reserve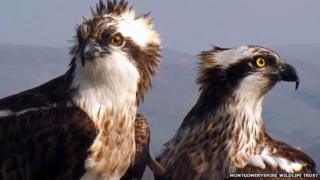 An osprey which starred in BBC Springwatch in 2012 has returned to its nesting ground in mid Wales after wintering in Africa.
Monty has returned annually to breed at Montgomeryshire Wildlife Trust's site, near Machynlleth, since 2011.
He, long-term mate Glesni and two other ospreys have all been at the site at Cors Dyfi since Monday.
Emyr Evans, of the trust, said: "It's been a crazy week with more arrivals than Heathrow."
Male, Dai Dot, was the first to arrive at the Dyfi Osprey Project at 07:50 BST on Monday, followed by female, Blue 24, at about the same time on Tuesday.
Monty arrived on Wednesday afternoon, with Glesni returning for her third year of mating with him on Thursday.
The trust said seven of the eight ospreys which bred in Wales in 2014 are now back.