Tesco row home in Aberystwyth is demolished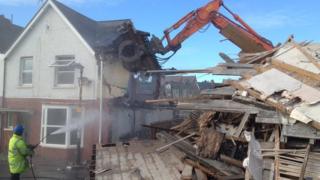 A grandmother's home has been demolished to make way for two retail giants building stores in Aberystwyth.
Enid Jones's house was taken down after being compulsory purchased to build a Tesco supermarket and Marks and Spencer store on Glyndwr Road in the town.
A planning inspector backed the move, which affected 12 homes, but Mrs Jones refused to sell.
Bulldozers moved in and tore down houses on Thursday.