New independent coalition to run Powys council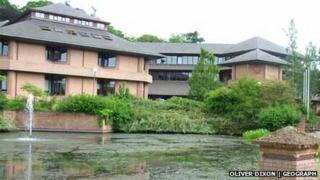 Three independent groups are linking up to form a new ruling group on Powys County Council starting from Monday.
Liberal Democrat and Conservative politicians say strong leadership is needed as the authority is facing up to tough decisions on council cuts.
The authority has traditionally been controlled by different independents.
Now, the Powys Independent Alliance has agreed a partnership with the Non-Political Group and Independent Group on the council's ruling cabinet.
Leader Barry Thomas said: "The council is facing continued financial pressures and needs the stability and strength that a partnership arrangement can deliver.
"So, from Monday the three independent groups will work together for the first time in a formal partnership."
'Political stability'
Mr Thomas became leader last January after a political battle led to his predecessor being ousted in a vote of no confidence after trying to create a new ruling coalition group.
The authority is made up of of 73 seats with independent councillors in the majority.
Glyn Davies, Conservative MP for Montgomeryshire, said Powys needs to save up to £70m by 2020, meaning the authority needed political "stability".
"The council has already agreed significant savings but there is still much work to be done," he said.
"This cannot be done unless County Hall is united and individual councillors are working closely with the local people who will be affected by their decisions."
Council Liberal Democrat group leader John Morris said: "Powys has difficult times ahead and it is hoped that the independent councillors can move away from the personality politics of the past and work together for the benefit of the residents of Powys."