Burial woman told to repay £8,000 or face jail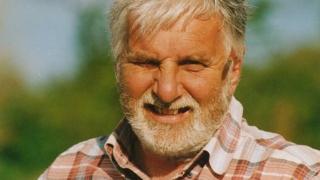 A woman who claimed a dead man's benefits has been told she faces a further jail term if she cannot pay the money back in full.
Boqer-Ore Adie, 44, of Beth Berith, Tregaron, Ceredigion, made £46,116 pretending Geoffrey Sturdey was still alive after he died in October 2008.
She was jailed for preventing his burial and benefit fraud and was ordered to repay the money by October.
But on Monday she asked a judge in Swansea to reduce the debt to £37,345.
Swansea Crown Court heard Adie had planned to use gold coins to repay the money but their value had since fallen.
'Calculated attempts'
She said the court had confiscated all the money she had and she now lived on £70 a week benefits and had no assets.
But Judge Paul Thomas rejected her claims and accused her and daughter Karmel Adie, who received a suspended sentence for preventing Mr Sturdey's burial, of making "calculated attempts" to thwart the confiscation order.
He ordered her to pay the outstanding £8,371 by April 2015 or go to prison for an additional six months.
Mr Sturdey was 60 when he disappeared in October 2008.
The Department for Work and Pensions (DWP) began investigating after staff noticed money in Boqer-Ore Adie's account exceeded her benefits amount.
Mr Sturdey's wife Rebekah Sturdey told investigators her husband had left the country to travel Europe, but they later found he did not have a valid passport.
Officers searched land at Beth Berith in 2012 and found his body buried near a rockery. He had died of natural causes.
Documents found with him claimed he had chosen his own burial plot and the women buried him in it immediately after his death.
Sturdey and friend Boqer-Ore Adie were both jailed after they admitted preventing his burial and fraudulently claiming his benefits.