Oil clubs aim to reduce fuel poverty in Ceredigion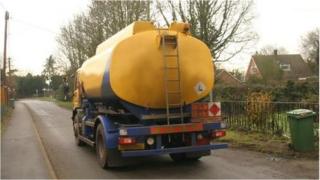 A pilot scheme encouraging people living in mid Wales to club together to bulk buy oil is aiming to reduce fuel poverty and promote energy efficiency.
The Club Cosy project is overseeing 10 oil buying syndicates in Ceredigion, which are run by volunteers.
Ceredigion council said people living in rural areas were twice as likely to be living in fuel poverty.
The Welsh government is funding the scheme, and lessons learned will be rolled out across the country.
Rachel Lilly from Ymlaen Ceredigion, which is co-ordinating the scheme, said: "This is a pilot in Wales which will show how communities can work together to buy fuel and become more energy efficient.
"It is a great opportunity to address fuel poverty and reduce unnecessary carbon emissions.
"What we learn in Ceredigion will be shared across Wales and the UK."
The project will be running sessions to advise co-ordinators who wish to start new groups and offer advice on becoming energy efficient and accessing grants and support.