Charity to take over Powys Dance to cut council costs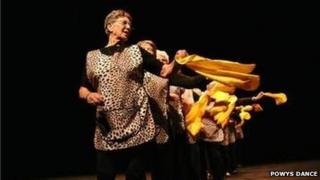 A dance company run by Powys council for 35 years is to be handed over to a charitable trust to save money.
Powys Dance will be taken over by a new charitable incorporated organisation (CIO) and will be run by its own board of management.
The council said the company, which is mainly funded by the Arts Council of Wales, will be able to operate more flexibly under the new arrangement.
A board of trustees will be recruited to help run it.
Powys council said the decision to outsource the community dance company, which holds classes and dance clubs, was in line with its broader aim to deliver services differently.
It said it would continue to support dance services for a defined period, but at a reduced cost to the council.
Eventually the organisation, based in Llandrindod Wells, will become less reliant on council money and will seek external funding to ensure its long term sustainability.
Amanda Griffkin, manager of Powys Dance, said the move presented "exciting opportunities", which would allow the community to be more involved in the planning and delivery of its future work.