A44 safety work continues after major crash, says Edwina Hart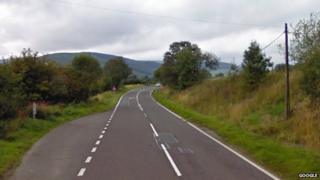 Work is continuing to improve safety on the A44 following the deaths of four people in a crash on the road in June, the transport minister has said.
Two men and two women were killed in the collision involving a tanker, car and van, near Aberystwyth.
A study found the A44 between Llangurig and Aberystwyth to be the most dangerous 'A' road in Wales.
Edwina Hart said improvements had been made at three accident spots and that may be extended along the entire route.
"Action has already been taken to address accident cluster sites at Pantybenny bends, Milestone 15 Bends and Cwmbrwyno Bends," she said.
"Improved road markings, signing and surface treatments have proved effective at these locations.
"We will continue to monitor the impact of these measures and consider extending them along the whole route."
Mrs Hart said a safety study had identified further accident spots between Sweet Lamb and Six Sycamores and Allt-y-Gwreiddyn.
"Further site specific collision investigations and prevention studies will now be undertaken at these locations and any subsequent recommendations implemented," she said.
The results of a review of speed limits across the whole of the trunk road network are due to be published in January.