Pentwyn School owner Hillcrest fined after Jordan Woonton death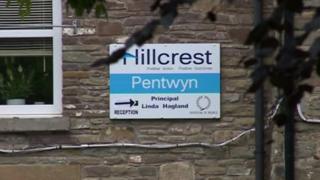 A company which owned a children's care home has been fined £2,400 following the death of a 15-year-old in its care.
Hillcrest, which owned Pentwyn School, near Hay-on-Wye, admitted employing insufficient experienced staff and not checking their fitness to work there.
Cardiff Magistrates' Court heard Jordan Woonton was not kept under the observation he should have been.
The vulnerable teenager from Nottinghamshire, who had been in care since 2010, was found dead in 2012.
An inquest into his death has been opened and adjourned.
Charges against two managers at the home were dropped at the hearing.
The Care and Social Services Inspectorate Wales brought the prosecution and spokeswoman Louise Morgan said outside court on Wednesday vulnerable children should be protected from harm.
"This includes making sure that there are enough staff available with sufficient skills and experience to make sure they are protected," she said.
"Most care in children's homes in Wales is good. However, if we do find serious breaches of regulations that put people at risk we will take action."
Following sentencing, a Hillcrest spokesman said the company was "profoundly saddened" by Jordan's death.
"Following this tragic event we rigorously reviewed every care, safety and wellbeing procedure in each of our homes and schools to minimise the risk of something similar happening again," he said.
"We continue to focus on providing the highest quality care and education to dozens of adults and children, and their safety remains our highest priority.
"Once again we extend our deepest sympathies to the young man's family."
The company said it closed the home in December 2012.