Aberystwyth Town footballer Luke Sherbon attacked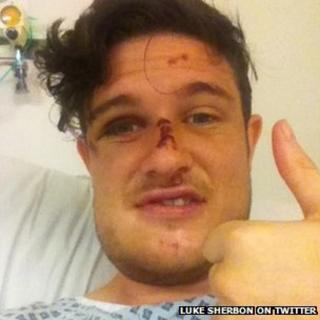 An Aberystwyth Town footballer had his jaw broken as he tried to stop a fight.
Midfielder Luke Sherbon, 28, was taken to Morriston Hospital in Swansea after he was punched in the face and had his head stamped on on 28 October.
Mr Sherbon, who has been ruled out of playing football for six weeks, said: "It was a horrible assault. I was just in the wrong place at the wrong time."
No arrests have been made but Dyfed-Powys Police are continuing to investigate the attack in Aberystwyth
Mr Sherbon said he stepped in to try and break up a fight between eight men near the town's clock tower.
He suffered a broken nose, broken jaw and two broken front teeth and spent four nights in hospital before being discharged.
He said: "I know I'm lucky because if someone hadn't stepped in to protect me while I was on the floor it could have been a lot, lot worse.
"It was a nightmare situation, but I did the right thing and I wouldn't think twice about stepping in again."