Police tackle sheep theft in Powys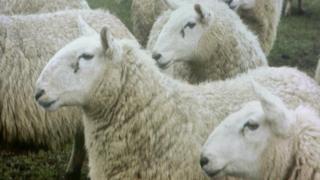 Police are increasing patrols and using special technologies to find stolen sheep.
There have been nine sheep thefts in Powys since September, which they say is "thousands of pounds worth of stock".
Police are advising farmers to paint buildings and gates with 'smartwater' technology, which leaves an invisible dye detectable in ultraviolet light.
They are also starting to use number plate readers to find thieves' cars.
'We need everyone'
Some vehicles carrying livestock will be stopped to check if the driver has appropriate documentation and if the animals on board were stolen.
Sgt Craig Morgan says Dyfed-Powys Police are working closely with trading standards officers in the county to tackle the spate of thefts.
"We need everyone in the county to be vigilant and to report to us anything which they think is suspicious."