N-word councillor Myfanwy Alexander faces no more action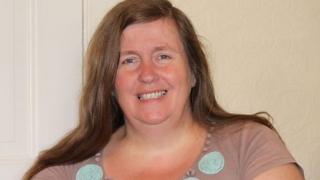 The former deputy leader of Powys council who quit after using the n-word has said there will be no further action taken against her.
Myfanwy Alexander told BBC Wales the Public Services Ombudsman was "satisfied" it was an isolated incident and she had apologised.
She used the word in a debate about cross-border health services in July.
The mother-of-six said she was speaking about the treatment of some patients who travel to Shropshire for treatment.
"I know I made a mistake," Ms Alexander said.
"Anyone who knows me knows I don't hold any racist views.
'Out of proportion'
"As far as I'm concerned, sense has prevailed.
"The issue is I made a mistake, I fully admit I made a mistake - but some of the comments afterwards were completely out of all proportion."
After Ms Alexander was reprimanded for using the racial slur, she explained she was quoting from author Maya Angelou's I Know Why The Caged Bird Sings, where a black character is refused dental treatment.
"But people who know me will know it was a careless word. You should resign for an attitude, not a word," she said at the time.
Council leader Barry Thomas referred Ms Alexander for "equalities training".
The ombudsman has been contacted for a comment.