Grave of poet Henry Vaughan has £10,000 restoration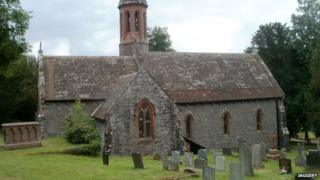 The grave of internationally-renowned poet Henry Vaughan has undergone a £10,000 restoration.
Money from the public and a grant from Brecon Beacons Trust has paid for repairs to the headstone and improved access to the grave at St Bridget's Church, Llansantffraed.
The project was organised by Brecknock Society and Museum Friends.
The society's chairman, Dr John Gibbs, said: "We hope the grave will be a place of pilgrimage."
He added: "Henry Vaughan is highly-regarded around the world. We are delighted with the work and it is a beautiful place to visit."
The Breconshire poet was buried at the church, near Talybont-on-Usk, in 1695.
The poet's life
Henry Vaughan was born in Llansantffraed near Talybont-on-Usk, Brecknockshire in 1621
He studied and travelled outside Wales, but chose to live most of his life in the Usk valley where he practiced medicine and developed his poetic skills
He died in 1695 and is buried in Llansantffraed churchyard
Many of his poems reflect the love he felt towards the landscape around Llansantffraed
Vaughan's most famous poems include; The Retreat, The World, The Waterfall and Man