Social care change plan to save Powys council £2.6m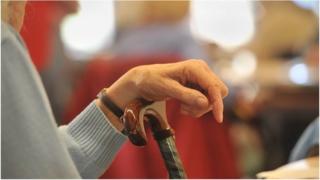 The criteria for people accessing adult social care services in Powys could change as the authority tries to save £2.6m in that sector.
Under the plan, people assessed as having moderate needs would be referred to universal or targeted services rather than specialist ones provided by the adult social care team.
The changes would bring Powys services in line with most councils in Wales.
A consultation into the matter is open to the public until the end of October.
Currently 18 of Wales 22 councils operate their services in the way Powys is proposing.
The council said in the consultation it would have to make more than £4m in savings in adult social care over the next three years.
The council has come under criticism in recent months for its handling of the reorganisation of home care service contracts.
Russell George AM called the transfer of care from around 20 companies to four "shambolic" after the council ended one company's contract within months of awarding it.