Ysgol Gymraeg Aberystwyth celebrates 75th anniversary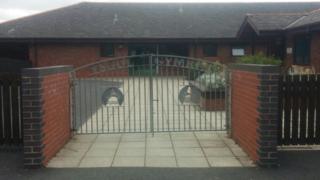 Former pupils and teachers of Wales' first Welsh-medium school will gather to celebrate its 75th anniversary.
Ysgol Gymraeg Aberystwyth was opened in September 1939 by Sir Ifan ab Owen Edwards, who feared children's spoken Welsh was being tarnished by the English language.
It proved so popular it had to be moved to a larger venue outside Aberystwyth.
Now it has more than 400 pupils, who will dress in period costumes to mark the milestone on Thursday.
A book including memories and photographs of staff and pupils has been created for the celebrations and a portrait of its founder will also be presented.
Sir Ifan's son, Prys Edwards, who was born at the school which was also his family's home, said he hoped his father's work "inspires the youth of Wales to do their utmost for our language".
Current head teacher Clive Williams said: "We are all very proud to be part of such an important celebration.
"There are now over 400 children at the school which demonstrates the growth and popularity of Welsh education in Aberystwyth over the years."
History of Ysgol Gymraeg Aberystwyth
Sir Ifan ab Owen Edwards opened the private school in September 1939 at the Urdd Centre in the town
There were seven pupils in the first class, led by headmistress Norah Isaac
It grew so big it had to be moved to a mansion outside the town
The council eventually took over its running, which sparked the creation of a network of Welsh schools