Palmerston steam engine returns to Rheidol railway line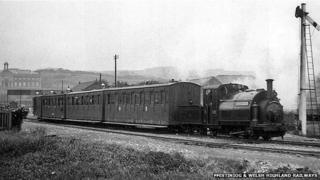 A steam engine used during World War One to ferry soldiers to training camps in Ceredigion is returning to the area to mark centenary commemorations.
The Palmerston was originally hired by the Vale of Rheidol Light Railway in 1913 to ferry passengers to camps between Aberystwyth and Devil's Bridge.
Owned by Ffestiniog & Welsh Highland Railways it returned between 1914-15 to move timber for pit props and duck boards to support the war effort.
It returns for four days this month.
Local historian Alun Jenkins said the "little engine played a very important part" in the war effort.
"It is nice to see the engine back," he said.
"To think that many of the soldiers who travelled on this line never returned from France.
"It's very poignant... being that the engine is back this year 100 years later."
The Palmerston was one of the first four locomotives built for the Ffestiniog Railway and went into service in 1864.
It worked for Ffestiniog Railway until 1931, when its boiler was condemned.
But it returned to service between 1933-37 after a replacement boiler was fitted.
In 1942 it was converted into a stationary boiler and was considered beyond restoration by the late 1960s.
However, by the 1970s the heritage railway started the project which was finally completed in 1993.
The Palmerston is the oldest surviving train to have worked on the Vale of Rheidol line.
It goes back into service on the line over the next two weekends.