Llanhamlach and Llanspyddid residents want speed limit cut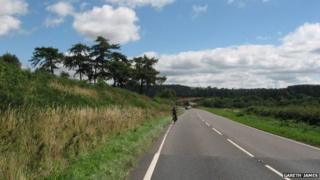 Three villages are joining forces to reduce speed limits in their communities.
Residents in Llanhamlach and Nant Ddu in Powys and Llanspyddid in Brecon are calling for a 40mph limit on the A470 - the main route between north and south Wales - and the A40.
Campaigners say the current national speed limit of 60mph is making roads dangerous.
The government is currently reviewing trunk road speed limits in Wales.
Residents outlined their road safety fears to Sheena Hague, deputy director of the Welsh government's network management division, during a visit to the villages.
Bronwyn Fox, clerk to Llanfrynach Community Council, said: "The local residents are very determined to get the speed limit reduced.
"We have had many accidents on these roads and all the communities want the speed limit down to 40mph if possible.
"We have been writing to the government and we managed to get an official to come and have a look at the roads and speak to the local people."